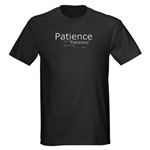 I just had this idea for a t-shirt in my mind for a few weeks now and I made the design and bought the shirt for myself. Now I thought maybe one of you would like to have one of these as well. I'll leave this one up for about a month and maybe I come up with another then.
The t-shirt I'm talking about is the
Patience
T-Shirt. It reads:
"Patience is called 'Patience' because you'll need about twenty minutes of patience."
Price: $19.99 / €15.21
Cafepress.com requires a credit card. If you don't have a credit card you can send me your address and the size of the tshirt that you want, donate $19.99 + $7 international shipping costs through paypal (paypal doesn't need a credit card) and I'll send it to you directly from cafepress.