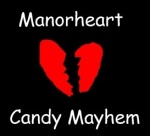 First off, we have the video
Past
by
TheMrVictim
, in which he used my song
Why Can't I Stay
from the
Cry of Fear Soundtrack
. Nice work as usual, Herr Opfer!
Furthermore,
Manorheart
released a new album called Candy Mayhem, which was inspired by the
Halfquake Amen Soundtrack
. You can download it at his
profile
or
directly from my server
.
It's an exciting time for me right now. I'm connecting with more musicians and artists for the new Taskless Sheep album to record additional instruments
(i.e. double bass, violin)
and create art for the website/cover/things. Yes, the release is being pushed back, but I've got some time anyway since I'm currently having a bit of a cold that I just can't seem to shake and there's still one song left for me to sing. I'm planning to finish it all in January, so we're looking at a possible release in February. As usual, be sure to
subscribe to the newsletter
(you might get the album a few days ahead of everyone else)
.
Two artists who have already contributed their skills for the new album are:
no.trespassing
and Tris from
Phi Chi
. I can't wait to show you guys what they've done.
As I said - exciting times! I'll be back with more news in January.